Pulp invites itself on the market of the disposable pod


With a catalog of flavors as complete, Pulp is a brand that can not be ignored in the landscape of French vape. Indeed, the brand of e-liquids has become over time the specialist in the field of single flavor with fruity, gourmet, fresh, drinks or classic flavors. With Pulp all vapers will find their happiness because there is truly for all tastes. It is difficult to find a panel of flavors as wide as that of Pulp.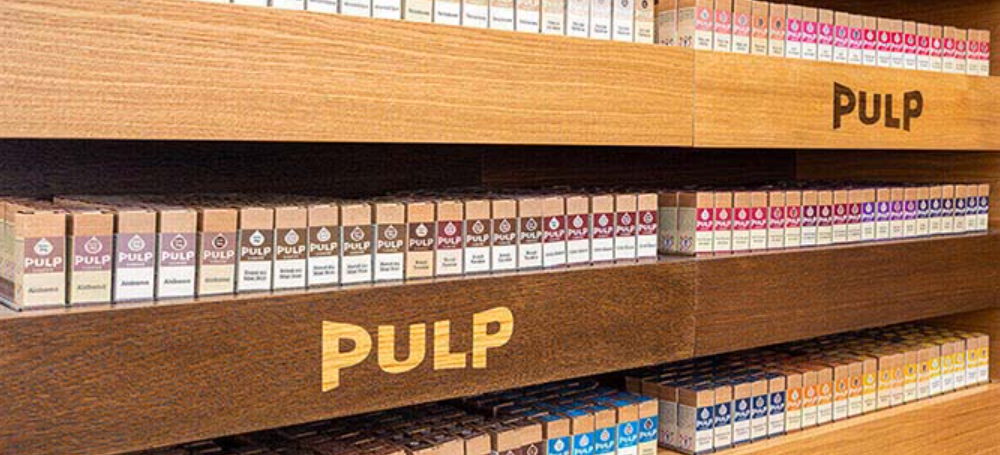 It is therefore quite natural that the French brand turns today to the new fashion effect of the vape, the new trend that floods the market, the disposable pod. With its catalog and its expertise in the field of e-liquid, Pulp is surely the producer best placed to offer puffs with inimitable flavors.

Called Le Pod By Pulp, the disposable puff of the French firm has a built-in battery of 550mAh autonomy and a tank with a capacity of 2ml. With this single-use pod, the vapoteur has about 600 puffs before having to throw the puff once empty.
The Pod By Pulp

Before going into details about this disposable pod manufactured by Pulp, it is good to remember that the puff is not thrown away anywhere. Indeed, once emptied of its puffs, you must throw the puff Pulp in a container of recovery batteries.

Pulp e-liquids undergo numerous tests to certify their compliance with all French and European standards. These are the liquids that are then used in the Pod By Pulp, so in terms of safety standards or quality, the puff Pulp is impeccable. The vapoteur can enjoy it without taking the head. All e-liquids present in these disposable pods are composed of Propylene Glycol, Vegetable Glycerin, flavors and nicotine for the versions 10mg and 20mg. The PG / VG is proportioned in 50/50.
Unavoidable flavors

For this range Le Pod By Pulp, the brand has chosen to highlight its best flavors. Discover them without further delay!
| | |
| --- | --- |
| Name | Flavors |
| Caramel Original | The greediness in the pure state with a very greedy caramel well sweetened with a small milky touch. |
| Cassis Givré | A slightly tart blackcurrant meets a touch of freshness for a sweet and totally frosted result. |
| Cerise Glacée | The pleasure found its representative with this whole cherry. The freshness comes to sublimate this sweetness to vaper. |
| Citron | The amateurs of the kind will tear off this acid lemon to the point to pull the tongue. |
| Citron Verte Menthe | The only thing missing is the terrace to fully appreciate this liquid with flavors of lime, mint and freshness. |
| Fleur de Cactus | Don't be fooled by appearances. Here nothing spicy, on the contrary, a mixture of cactus, lime and watermelon on a background of freshness. |
| Fruits Rouges Glacés | A basket of red fruits for a tasty and sweet vape. The freshness softens the whole. |
| Melon Menthe | Melon and peach intermingle for a sweet and juicy flavor. The mint and freshness add a refreshing twist. |
| Menthe Polaire | A freshness capable of giving you chills. This is the promise of this intense white mint. |
| Menthe Verte | All the pleasure of a chlorophyll spearmint gum. |
| Mozambique Blend | A classic blond of a rare quality. At once sweet, dry and light, impossible to pass up. |
| Pêche Melon Glacés | Sugar meets sweetness in this fusion of peach and melon. A slight freshness accompanies it all. |
| Pomme Poire | A perfect balance between a slightly sweet apple and a juicy pear. |
| Tarte au Citron | A delicious taste with a touch of acidity in this lemon pie flavor. |
| Thé Pêche | The summer comes to life in this blend of white peach and tea for a sweet and refreshing experience. |
For this sheet, all flavors here are available only in 20mg nicotine salts. To find the Pod By Pulp nicotine, click on the links below. 00mg / 10mg.
Contents :
1 x Puff Le Pod By Pulp
1 x User Manual